Hydraulic Quick Couplings > ISO B Type Hydraulic Quick Couplings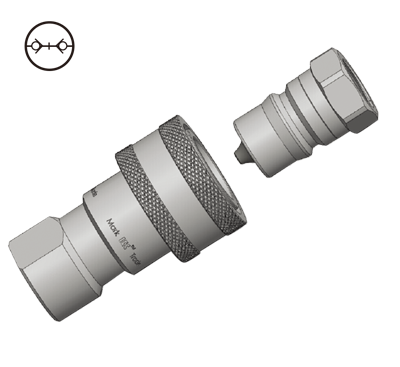 Materials:
Coupling:steel (zinc chromate plating)
Nipple:Hardened steel (zinc chromate plating)
Other materials Brass ,Stainless steel are available upon request.
Features:
■Meets the requirements of ISO 7241-1-Series B.
■Can be used for any type of industrial applications because of the broad range of materials, seals and end configurations
■
Body seal
Steel and stainless steel versions feature PTFE back-up ring which prevents seal washout at high flow rates. Brass couplers have a double O-ring seal for redundancy in low pressure and vacuum applications.
■The durable-ball-locking mechanism ensures a reliable connection every time.
■Captive valve seal assures poppet sealing. The valve seal is positively captured by the metal poppet to minimize seal washout or damage from high velocity fluid.
■Dust caps available,Female pipe and BSPP or NPT thread are available upon request.
Interchange:
Parker 60, Nitto 250 ,Hansen Bx-75,
Foster Hx - S series ,Faster HNV, Cejn X75